Hungarian president steps down, robbing hard-line government of rubber stamp
Amid accusations of plagiarism in his doctoral dissertation, Hungarian President Schmitt announced his resignation today.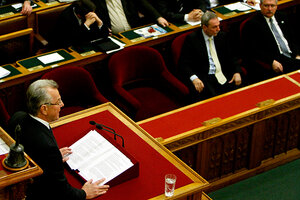 Bernadett Szabo/Reuters
Hungarian President Pal Schmitt stepped down today, days after his alma mater revoked his doctorate amid findings that he had plagiarized most of his dissertation.
"When my personal matters divide my beloved nation, instead of unify it, I feel obligated to end my service and resign my presidential mandate," Mr. Schmitt said in a televised address to Parliament.
To the very end, Schmitt protested that he followed university rules to the best of his knowledge, but he chose to stand down as president in hopes of quelling a public outcry.
The early uncertainty over whether Schmitt would resign was seen as a democratic test for Hungary: Would his Fidesz party, which holds a majority in Parliament, relent to public pressure on an embattled official, or would it find a way to cling to its political interests? Though the presidency is largely a ceremonial office, Schmitt was regularly criticized for rubber-stamping every law approved by conservative Fidesz since it gained a two-thirds majority in 2010.
While previous presidents came from legal backgrounds and occasionally returned legislation to lawmakers for review, Schmitt was perceived by critics as a puppet who didn't question Prime Minister Viktor Orban.
Some of the new laws under the Orban administration – including tightened executive control over the judiciary, media, personal data, and state bank – are under investigation by the European Union. The European Commission is determining whether they violate EU law amid concerns that Orban is shifting Hungary away from democracy and closer to authoritarian rule.
---