Medvedev's legacy in Russia: small victories in Putin's shadows
Despite making little headway on corruption or human rights, Russian President Dmitry Medvedev did change Russia. 'The ice began to melt and Putin won't be able to refreeze it,' said one expert.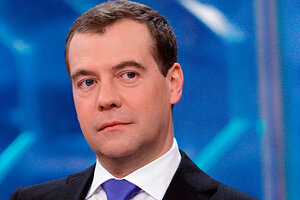 Vladimir Rodionov/Presidential Press Service/RIA Novosti Kremlin/AP
Sergei Mokhnatkin walked out of a grim provincial prison a free man Wednesday, five days after outgoing President Dmitry Medvedev signed a decree ordering his release. Mr. Mokhnatkin had been arrested two years ago for trying to intercede with a police officer who was allegedly roughing up an elderly protester at an unsanctioned opposition rally.
Human rights activists say that, while they are overjoyed for Mokhnatkin, this may be as good a summary as any for the disappointing achievements of Mr. Medvedev's presidency, which formally ends on May 7. Vladimir Putin will then be inaugurated for his third term as president of Russia.
Though Medvedev repeatedly promised democratic reforms, and often made a strong public show of disagreeing with Mr. Putin on human rights issues, in the end Mokhnatkin was the only alleged political prisoner to be pardoned in Medvedev's constitutionally mandated right to declare amnesty. Human rights organizations had submitted to him a list of more than 30 people in prison for political reasons.
"Mokhnatkin was due to be released in June anyhow. He already served most of his term, and he went through all that because he made some remark to a policeman," says Lev Ponomaryov, head of For Human Rights, a public organization. Mokhnatkin was a completely uninvolved passerby near the rally, says Mr. Ponomaryov. "We considered him a political prisoner. But we gave a long list of names to the president for his consideration, and Mokhnatkin was the only one chosen. Take your pick, it's either indecent or ridiculous."
---