Russians perplexed by Putin's snub of G8. Is it because of protests? Obama?
President Vladimir Putin said he is 'too busy' to attend the G8 summit. But Russians say he's either on edge about recent protests or intends to throw a wrench in the US-Russia 'reset.'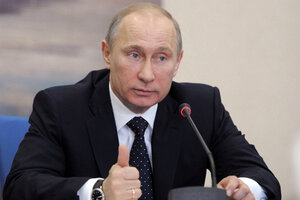 Alexei Druzhinin/Government Press Service/RIA-Novosti/AP
It's part Occupy Wall Street, part Hyde Park Corner, and entirely something new for Russia.
The little encampment spontaneously created a week ago by a few hundred mostly young activists in a downtown Moscow park, near the Chistye Prudi metro station, has blossomed into a "democracy preserve" that features free lectures on civics by university professors, unfettered outdoor debate, and an intimate look at Russia's growing rainbow of opposition forces, who appear to agree only on the demand that freshly inaugurated President Vladimir Putin step down.
So far the police have left it alone, though they beat and arrested hundreds during protests against Mr. Putin's inauguration last week. Yesterday about 15,000 people, including top opposition leaders, writers, and other celebrities, marched across central Moscow to express solidarity with the campers.
But is the appearance of a permanent opposition outpost in the heart of Moscow and the outpouring of social support it's attracted the reason behind the apparently odd behavior of Putin, who was inaugurated amid unprecedented social protests? Within days of taking office, Putin announced he would not be attending the Group of 8 summit later this week at Camp David, an unprecedented action for a Russian head of state and what looks like a direct snub of President Obama.
Putin explained that he is "too busy" establishing his new government to attend the annual summit of G-8 leaders, and that he will send former president and current Prime Minister Dmitry Medvedev instead. That may be all there is to it. But the move has sparked an outpouring of discussion in Moscow because it's unheard-of for a Kremlin leader to dodge an opportunity to share the big stage with his Western counterparts and enjoy an intimate tête-à-tête on the sidelines with the president of the United States.
---