What would a Greek exit from the eurozone look like?
Rumors are rife of a Greek exit from the eurozone. While no country has yet dropped the common currency, there are some indications of what will transpire if Greece does.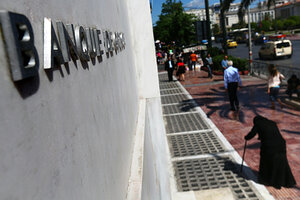 Yannis Behrakis/Reuters
Odysseus, hero of Greek mythology, once had to navigate his ship between two horrible monsters. Rather than risking the loss of his the entire vessel to Charybdis, he sailed past Scylla and sacrificed part of his crew.
Modern-day Greeks face a similar dilemma. Should they endure the austerity measures demanded by the European Union and the International Monetary Fund (IMF) in exchange for bailout funds that will be used to pay bank debts and allow the country to stay in the eurozone? Or should they reject the spending cuts and lose the bailout, requiring that they leave the currency union and return to the drachma they so happily abandoned in 2001 (at an exchange of 340.75 drachmas for each euro).
With a re-do of national elections scheduled for June, and anti-bailout parties enjoying substantial popular support, there's a real possibility that Greece could rebel against the deep spending cuts demanded by Germany – which makes it a possibility that Greece's days in the euro could be numbered.
What are the mechanics of a country leaving the euro?
The EU founders did not anticipate an exit by any member states, so there are no legal procedures for such a case. Given the immense significance of the common currency – it is seen as the most important symbol for Europe's political unity – considering a Greek exit was anathema in European capitals until very recently.
---