Will French voters deliver parliament to Hollande's party?
Tomorrow's parliamentary elections in France will determine if President François Hollande will face a divided government that could challenge his agenda.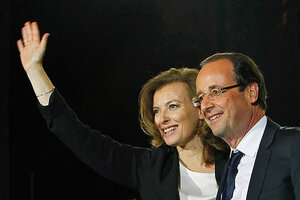 Francois Mori/AP
French general elections tomorrow will begin to determine whether new president François Hollande will govern Europe's No. 2 nation with a clear majority or lead a divided government during the worst European crisis of money and confidence in decades.
Mr. Hollande, a pragmatic pro-European Social Democrat, has said he would like to rebalance the current austerity policy in the European Union with a variety of growth policies. German Chancellor Angela Merkel signaled some flexibility this week with her calls for "more Europe" and a "political union" as Spain grapples with an acute banking crisis and Greece prepares for a new election June 17 in the midst of tumult, both of which are a serious test for Europe's future.
The French parliamentary vote takes place in two rounds, one tomorrow and one June 17. Hollande's Socialist Party, coming off the May 5 presidential victory, wants to wrest control of the 577-member National Assembly from the right-wing party of former president Nicolas Sarkozy, which holds a majority.
French voters have historically given the winner of presidential elections a mandate, though not always. Polls show the Socialists, in league with a variety of left parties, currently winning as many as 320 seats – enough for an outright majority.
The Socialists anticipate a political coalition with the Europe Ecology party and the Greens – leftist parties that would support broader European initiatives. But if Hollande needs the support of far left nationalist figure Jean-Luc Melenchon, who opposes further European federal answers, he could be constrained in pursuit of bolder initiatives.
---