With elections behind them, Greece goes to bat with Germany
Greece's emerging government is expected to ask for more time to implement austerity measures. Germany is saying no. One side will have to back down.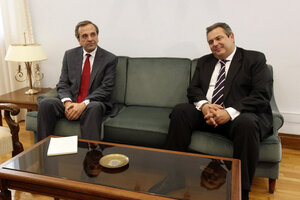 Yorgos Karahalis/Reuters
Greek elections signaled a desire among Greeks to stay in the eurozone, and today the leaders of the party that won this week's poll are expected to announce a government coalition that is ready to accomplish European Union reforms.
But the storm clouds are hardly gone. A larger showdown over whether ailing Greece can actually stay in the eurozone is taking shape between Germany and Greece.
German Chancellor Angela Merkel, the architect of European austerity, will in a sense square off with Greek forces, like the opposition far-left Syriza party, opposed to strict austerity attached to a recent bailout agreement. Ms. Merkel and Syriza now appear to represent the two "hard" bargaining positions, say analysts. Syriza and other anti-bailout parties in Greece received more than 50 percent of the votes in the June 17 election and are willing to think the previously unthinkable: Greece out of the eurozone.
---