Stranger than fiction: Germany-Greece eurocrisis invades the soccer pitch
The political loggerheads between Germany and Greece have defined the European financial crisis. Now, the struggle hits the soccer field in Friday's Euro 2012 quarterfinal.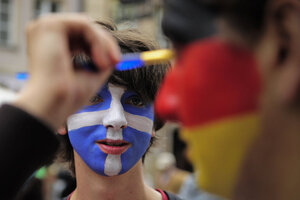 Alvaro Barrientos/AP
Sport is war minus the shooting, George Orwell once said. The European Football Championships 2012, currently being held in Poland and Ukraine, have so far been a fairly peaceful affair. Only Poland against Russia was a politically loaded match, illustrating deep-seated animosities harking back to decades of difficult relations between the two countries. Almost inevitably there were scuffles in the streets around the stadium.
But the soccer tournament's match tonight will happen against the backdrop of a very modern conflict: Germany vs. Greece.
When Greece made it through the first round of Euro 2012, the success was a boost to the self-confidence of a nation rattled by months of recession and political uncertainty. When Germany learned who they would have to play in the quarterfinals, you could almost hear the collective intake of breath by political Berlin.
"I am looking forward to our cooperation, which will enhance the traditionally deep friendship between our two nations," German Chancellor Angela Merkel wrote in her congratulatory message to Greece's new prime minister, Antonis Samaras.
But Mrs. Merkel's unwavering refusal to renegotiate the harsh conditions for Greece's two bailout packages ‒ strict austerity, privatization of state assets, reform of state authorities, and tax collection – has made her very unpopular among Greeks, and that emotion has permeated into soccer.
---