Modern city rises up out of Siberia's oil-rich peat bogs
The 'national district' of Khanti-Mansiysk, located in remote western Siberia, illustrates an ambitious effort by the Kremlin to modernize Soviet-era outposts, often with local oil revenue.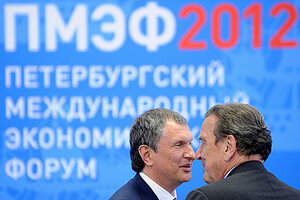 AP Photo/Kirill Kudryavtsev, Pool
The most surprising place you've never heard of is probably this small "national district" set in the wilds of western Siberia, where fast-paced changes may hint at the Kremlin's modernization agenda for the whole country.
Khanti-Mansiysk has twice as much oil as Libya, and accounts for more than half of giant Russia's entire production. It's only "small" by Siberian standards; if it were in the US it would be the third largest state, after Texas. If it were an independent country, it would probably be the richest per capita on earth, since its entire population amounts to just 1.5 million people.
In Soviet times this usually frigid land of peat bogs, lakes, and taiga (Siberian boreal forest) was largely a vast oil-pumping zone. The nominally autonomous Khantys and Mansis indigenous people largely remained in their traditional lives of hunting, fishing, and reindeer herding, while teams of temporary petroleum workers left little behind but vast tracts of oil-polluted taiga. Photographs of the regional capital, also named Khanti-Mansiysk, from as recently as the 1970s show little more than a big cluster of wooden buildings – constructed by political prisoners who started the settlement in the 1930s – connected by wooden walkways and divided by dirt streets.
---