Bus bombing: Why in Bulgaria, and why look to Iran?
Israel's prime minister accuses Iran of attacking a busload of tourists in Bulgaria, a popular destination for Israelis.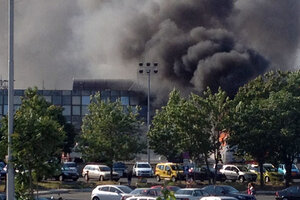 Burgasinfo/AP
Zagreb, Croatia and Tel Aviv
At least seven Israeli tourists were killed and dozens were reported injured in a terrorist bomb attack in Bulgaria today, with Israel immediately placing the blame on Iran.
The blast targeted buses at the the airport in Burgas, a city on the Black Sea coast and a major entry point for tourists heading to nearby resorts. It remains unclear if the explosion was from a suicide bomber or a bomb placed at the front of one of the buses.
Tourism is a major economic earner for Bulgaria, a country of around 7 million people that drew 8.7 million foreign visitors last year – almost 140,000 of them from Israel. Bulgaria has established a reputation among Israelis as a cheap place to get married and to gamble, according to Bulgarian journalist Petar Karaboev.
Security for Israeli tourists in Bulgaria had been tightened after a reported attempt to bomb a bus carrying Israelis to a ski resort near Sofia was foiled in January. That incident was thought to be linked to the fourth anniversary of the assassination of commander Imad Mughniyeh from the Iranian-allied Lebanese militant group Hezbollah.
Bulgaria's popularity with Israelis yet relative lack of experience with political violence may explain how the country became a terrorist target.
"It could have happened anywhere in the world [but] Bulgaria is particularly vulnerable as the police have no anti-terrorism experience," says Anthony Georgieff, a Bulgarian journalist and the author of a book on Jewish Bulgaria.
---