Attacks target voices of moderate Islam in central Russia
Attacks in Russia's Tatarstan republic today killed one Muslim cleric and seriously wounded a second, underscoring a rising threat to a moderate brand of Islam.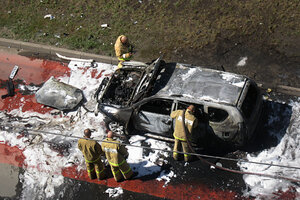 AP
A leading Muslim cleric was shot dead and another seriously injured by a car bomb in the mainly Muslim Volga republic of Tatarstan Thursday, in attacks that police and most experts believe were almost certainly carried out by radical Islamists.
The violence threatens to shatter more than just the peace in the oil-rich central Russian region (see map), whose majority population constitutes one of the biggest single concentrations of Sunni Muslims in Europe. The two victims are leading proponents of the officially sponsored brand of Euro-Islam, which preaches tolerance, democracy and acceptance of modern secular life.
The republic's chief mufti, Ildus Faizov, who was hurled from his car by a powerful blast, had been leading efforts to expunge Saudi-trained clerics and extreme Salafist textbooks from local mosques and religious schools.
Deputy mufti Valiulla Yakupov, gunned down on the porch of his home, was an Islamic scholar who was widely regarded as the main strategist in the fight against religious extremism. When the Monitor interviewed Mr. Yakupov in his office in Kazan back in 2003, he appeared confident that Tatarstan -- where over a third of the population are ethnic Russian and Orthodox Christian -- would be able to avoid the sectarian violence and religious intolerance that was destroying other communities in the former Soviet Union and the Middle East.
---