A year after Breivik's massacre, Norway tightens antiterror laws
Norway's prime minister tells the Monitor that, despite the new laws, the country will maintain its open and democratic character.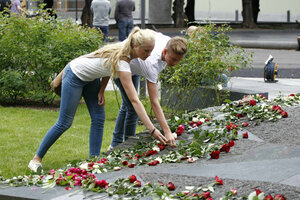 Tor Erik Schroeder/Reuters
As Norwegians mark the first anniversary of last summer's twin terror attacks, they are enacting new laws to combat political violence while trying to preserve their society's broad liberties.
Among the changes proposed in recent weeks are new terror laws that would make it illegal for one person to plan an attack and criminalizing participation in terrorist training camps abroad. There are also calls for increased surveillance measures, such as wiretapping rooms to avert attacks on government officials.
The proposed laws would have made Anders Behring Breivik, the Norwegian man behind the July 22 attacks that claimed 77 lives, criminally responsible in the planning phase had he been caught with his homemade bombs and arsenal of weapons meant for Labor party targets. The current terror law specifies planning by several persons.
"My message is that fundamentally Norway is the same kind of [open and democratic] society," said Jens Stoltenberg, Norway's prime minister, in an interview with The Christian Science Monitor shortly after laying a memorial wreath in the government square behind his bombed out offices. One year later, those offices remain draped in plastic tarp and the windows are boarded up.
"But of course we are not in no way changed," he said. "This will affect us and it has affected us partly, as you mentioned, by some of the measures we have already implemented related to increased capacity for the police security services and closer cooperation between the Army and the police. And I believe that we are going to do more of these kinds of things after the [July 22] Commission presents its report within the next few weeks."
---