Eurozone crisis: will Spain's youth exodus weaken economy?
Preliminary data show that the number of young Spaniards emigrating in search of better jobs has nearly doubled since 2010. Some say the experience they get could ultimately benefit Spain.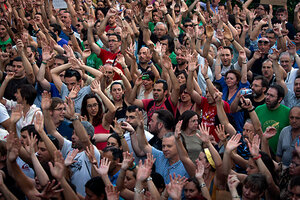 Emilio Morenatti/AP
Young Spanish professionals are increasingly relocating to different countries as their economic prospects worsen and unemployment shows no sign of letting up in the near future.
More than a decade of robust Spanish growth ended in 2008 as a construction boom went bust, and the global economic crisis further undermined the economy, leaving millions without a job.
But what this means to Spain's long-term future is not certain. Some emphasize the benefits of an internationally experienced generation upon their return, while others stress that their exit is depriving Spain of its most promising workers.
"We're leaving because of the crisis, but the experience we'll get in the US is more rewarding," said German Coppola, a 37-year-old who in September is slated to move to Texas with his wife and three small children, after deciding to take a job in a technology company rather than taking a risk in Spain by continuing his own business.
"I got a good job offer doing what I do," Mr. Coppola said. "On the other hand, the Spanish market is not fit for small companies in the technology sector. And most of our clients don't have money to invest, and if they do, they don't know what to invest it in."
The Spanish National Statistics Institute released preliminary data for the first half of 2012 last week, showing a rising exodus of Spaniards since 2009.
From 2009 to 2010, the number of Spaniards that moved to other countries increased by 5 percent, while in 2011 the percentage increase soared to 70 percent. In the first half of 2012, the number climbed almost 45 percent compared to the same period last year.
---