At end of rocky Europe tour, Romney visits Poland
Mitt Romney hopes to capitalize on Polish disappointment with the Obama administration, after cancellation of missile shield plans in 2009. Will he capture the Polish-American vote?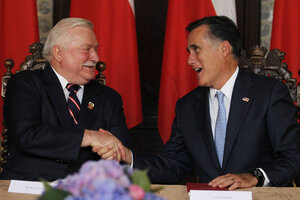 Jason Reed/REUTERS
The last leg of Mitt Romney's foreign trip has taken him to Poland today, one of America's strongest allies in Europe. The Republican presidential candidate will try to capitalize on tensions caused by what Mr. Romney called the "abandonment of friends" by the Obama administration after its cancellation of missile shield plans in 2009.
Romney has more to gain from his visit to Poland after his London debacle.
"Photo ops," says Konstanty Gebert, a Warsaw-based Eastern Europe analyst at the European Council on Foreign Relations, are an easy win. "A picture with Walesa, who is seen by many in America as the face of liberty, will do Romney no harm. Neither will a picture of him at the monument for the uprising in the Jewish ghetto [in Warsaw]."
Not even a slip of tongue would be much of a problem. "No gaffe here would have the resonance his London gaffe had," says Mr. Gebert. "Warsaw is a safe place for Romney."
But others warn that his Cold War-style in addressing international politics might not be welcomed by Poles.
Romney surprised many Americans and foreign observers by calling Russia "America's number one geopolitical foe" in a CNN interview in March. His rather undiplomatic choice of words has been received with unease in Warsaw despite the historically close relationship between Poland and the US.
---