Was Putin in charge during Georgia war? Medvedev begs to differ.
On fourth anniversary of the Georgia war, Russia's President Putin said he was in close contact with then-President Medvedev. He also created a stir by saying Russia had a 'war plan' before the conflict.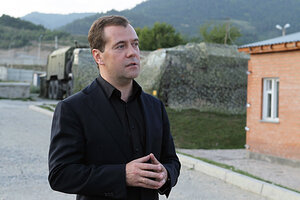 Yekaterina Shtukina/Government Press Service/RIA-Novosti/AP
In separate comments dedicated to the fourth anniversary of the 2008 Georgia war, Russia's President Vladimir Putin has possibly generated more than one nasty controversy, which the Kremlin leader can ill afford.
One remark by Mr. Putin, which has the Georgian Foreign Ministry in full cry, was his unexpected insistence that Russia "had a plan" for war with Georgia even before Georgian forces struck the capital of breakaway South Ossetia on Aug. 8, 2008, triggering the conflict.
Another, which has set Russia's political commentariat astir, is Putin's claim Wednesday that he telephoned then-President Dmitry Medvedev twice in the early hours of the war to discuss what to do. That statement seems remarkable, since Mr. Medvedev has repeatedly insisted that he did not talk with Putin until the next day, when all the key decisions had already been made. Russian experts say this clash of reminiscences is not trivial, and might bespeak a deep rift in the Putin-Medvedev "tandem" that has ruled Russia for almost five years.
"This is a very strange moment," says Nikolai Petrov, an expert with the Carnegie Center in Moscow. "It's not really in Putin's best interests to quarrel with Medvedev over what happened. But it seems to be more important to him just now to show that it was he who won the war, who restored Russia's military glory, than it is to maintain the facade of unity with Medvedev."
---