Samaras goes on charm offensive in bid to give Greece more time
German Chancellor Merkel remained cool to the Greek prime minister's pleas in Berlin for more time to implement economic reforms. Samaras travels to France Saturday.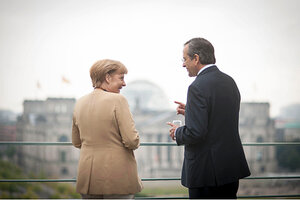 Guido Bergmann/Bundesregierung/AP
The summer break is over for Europe, bringing the eurocrisis back with a vengeance.
After three years of constant struggling and two international bailout packages worth 240 billion euros ($300 billion), the Greek economy is still on the verge of collapse, and a Greek exit from the eurozone seems more possible than ever.
Prime Minister Antonis Samaras has thus started a charm offensive, traveling to Berlin and Paris this week to earn more time to implement reforms. But many observers are skeptical that the Greek coalition government of conservatives and socialists has the power and the will to put the country onto a course of recovery, raising questions as to whether Mr. Samaras will get a very sympathetic audience.
"Greece will stick to its commitments and fulfill its obligations. In fact, this is already happening," Samaras said at a press conference after meeting with Chancellor Merkel today in Berlin. "We're not asking for more money. We're asking for breaths of air in this dive we are taking." He is expected to make similar requests in Paris on Saturday.
---