Russia turns its gaze eastward with APEC economic summit
Russia hopes to transform Vladivostok, the host city for this year's Asia-Pacific Economic Cooperation forum, into a gateway for commercial trade with East Asia.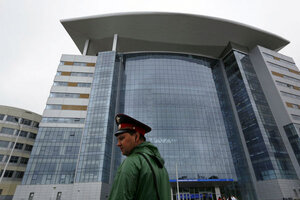 Vincent Yu/AP
The far eastern port of Vladivostok, where Russia is hosting this year's summit of the 21-member Asia-Pacific Economic Cooperation (APEC) forum, is set to become the pivot for a massive Russian effort to integrate economically and politically with the dynamic and increasingly important nations of East Asia.
The Kremlin has invested $21 billion in preparing for the week-long event, far more than most countries spend to hold the Olympic Games, mostly to reinforce sagging infrastructure in Vladivostok – a city of 600,000 seven time zones ahead of Moscow – and to turn the city's once almost inaccessible Russky Island into a world-class conference venue. Russian President Vladimir Putin will address the summit this weekend, and is expected to lay out ambitious Russian plans for pipelines, roads, and rail links through Russia that could soon directly link the booming economies of the far east with the markets of western Europe.
Mr. Putin is also expected to at least subtly oppose US initiatives in the region, particularly the Trans-Pacific Strategic Economic Partnership plan, a Pacific-area free-trade arrangement that some Asian countries have been invited to join but not Russia or China.
"In the 20th century. the heart of superpower confrontation was Eastern Europe, but in the future the center will be East Asia," says Anastasia Mitrofanova, a professor at the Russian Foreign Ministry's Diplomatic Academy in Moscow.
"The competition will be between many powers, not just Russia and the US, and it will take new forms," she says. "At the APEC summit we can expect new initiatives from Putin aimed at countering efforts to exclude Russia from the Asia-Pacific zone. We know the US is trying to reserve this region for itself."
---