Eurozone worries ease on German court's bailout fund ruling
Germany's Constitutional Court ruled today that the European Stability Mechanism bailout fund is legal, clearing the way for its use in bolstering the eurozone's ailing national economies.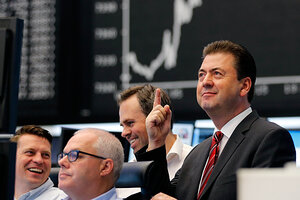 Michael Probst/AP
Markets heaved a sigh of relief, stock prices rallied – never before has a decision of Germany's Constitutional Court had such an impact on the world's economy.
Europe's bailout fund, the European Stability Mechanism (ESM), got the all clear today when the court in the city of Karlsruhe ruled that the ratification of the ESM treaty was in line with the German constitution. The ruling had been awaited nervously by governments and investors around the world, since a rejection of the ESM by Germany would have thrown the eurozone, already reeling from the biggest debt crisis since its creation in 1999, into even greater turmoil.
"This is a good day for Germany, and a good day for Europe," Chancellor Angela Merkel told parliament after the ruling. "We are sending a strong signal that we are committed to the eurozone project."
---