Russian Duma expels anti-Putin lawmaker. Sign of a coming crackdown?
Russia's legislative body ousted dissident lawmaker Gennady Gudkov today, just a day before thousands of Russians are expected to take to the streets to protest against Vladimir Putin's rule.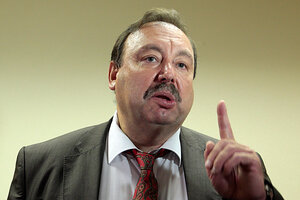 Mikhail Metzel/AP
In a nearly unprecedented action, the pro-Kremlin majority in Russia's State Duma voted to strip dissident lawmaker Gennady Gudkov of his parliamentary mandate Friday. The move – just a day before thousands of Russians are expected to return to the streets of Moscow to protest against Vladimir Putin's increasingly authoritarian rule – is seen by many as part of a wider crackdown to warn of the consequences for participating in the nearly 10-month-old opposition movement.
Mr. Gudkov is a former KGB colonel who broke with Mr. Putin's United Russia party five years ago to join the center-left Just Russia party, and recently became a strong supporter of the anti-Putin protest movement. He was accused by the Duma majority of engaging in commercial activities – which is illegal for Duma members while in office – and his case was rushed through this week, culminating in a 291-150 vote to expel him in the 450-seat lower house of parliament Friday. He denies the allegations, and warns that he may be just the first of several opposition-minded deputies slated to face the revenge of the pro-Putin majority.
---