Charlie Hebdo's Muhammad cartoons: a headache for Hollande?
The French newspaper's publication of new cartoons of the prophet Muhammad could shake French President François Hollande's standing, both domestically and abroad.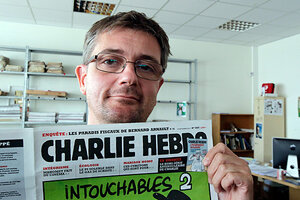 MIchel Euler/AP
France is once again embroiled in controversy over freedom of speech and religion, after satirical weekly newspaper Charlie Hebdo today published raunchy cartoons of the prophet Muhammad. The cartoons' publication – amid spreading Muslim protests around the world against anti-Islam film "Innocence of Muslims" – could shake the standing of French President François Hollande among Muslims domestically and abroad.
Some of the cartoons use strong language and feature a naked prophet Muhammad lying in provocative positions. Stéphane Charbonnier, the top editor of Charlie Hebdo, justified the cartoons in a short text on page two of the newspaper by writing that there should be no limits when it comes to freedom of speech.
"There is nothing to negotiate with fascists," Mr. Charbonnier wrote, referring to those who oppose the drawings. Charlie Hebdo had its offices set on fire in Nov. 2011 after publishing a cartoon of the Prophet Muhammad on its front page.
Charlie Hebdo's website was shut down by a cyber attack Wednesday, the newspaper said on a blog it uses as a backup site, adding that virtually all its print issues had already been sold. Agence France-Presse reported Wednesday afternoon that a complaint had been filed against Charlie Hebdo by a group calling itself Syrian Association For Freedom.
---