St. Petersburg's 'gay propaganda' law has LGBT Russians wary
The law has resulted in more than 70 arrests, though only one conviction, since being implemented in the spring. But some say it has also galvanized the community to stand up for itself.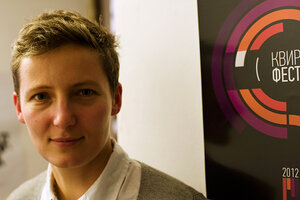 Ann Törnkvist
Eight burly guards in black suits ushered guests into an anonymous building on the bank of the Neva River in St. Petersburg, as activists, artists, and diplomats gathered last month for the opening of the city's Queer Fest – the first time the annual event has been held under the shadow of a new law against "gay propaganda" aimed at minors.
But while the law has largely been used as a club against the city's gay community, some say that it has not done much – and may even have galvanized the community to stand up for their rights.
The law, signed into effect by St. Petersburg's governor this spring, outlaws "public action aimed at propagandizing sodomy, lesbianism, bisexualism, and transgenderism among minors." Individuals found guilty face up to a 5,000-ruble fine, about $160. Government officials and businesses face much higher maximum fines of 50,000 rubles ($1,600) and 500,000 rubles ($16,000) respectively.
According to Agence France-Presse, more than 70 people have been arrested for violating the law, though only one person, high-profile LGBT activist Nikolay Alekseyev, has been convicted. He has admitted to pushing boundaries in order to draw attention to and challenge the law.
Similar laws already existed in a handful of cities. Some proponents in the State Duma have said a national law would be desirable.
Almost three-quarters of Russians surveyed said homosexuals were immoral or suffered psychological problems, according to a survey by the research institute Levada in 2010. Still, almost half of respondents believed homosexuals had the right to equality with heterosexual citizens.
---