Barcelona vs Madrid: Battling on the soccer field and off
Spanish soccer rivals Barcelona and Real Madrid tied in a brilliant match yesterday, which was representative of a political battle as well: The Catalonian government is pursuing independence.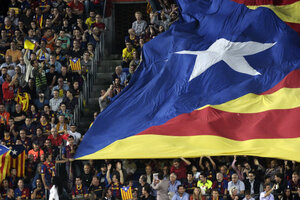 Sergio Carmona/Reuters
Legendary football rivals Barcelona and Real Madrid tied yesterday 2-2 in brilliant clasico, a match of Spain's top league that attracted some 400 million viewers worldwide.
But it was not simply one of the best games ever played between two of the world's best teams, and certainly some of the world's best players, including Lionel Messi, Cristiano Ronaldo, and Andrés Iniesta.
There was a parallel, yet overlooked battleground. The Catalonian government's decision last month to pursue independence added a passionate twist, making the match perhaps the most intense and politically charged in decades. The two teams embody the modern vanguard of a centuries-old standoff between nationalism and regionalism; Madrid is the national capital while Barcelona is the regional capital of Catalonia.
Poignant symbols on display
Barcelona's motto is més que un club (more than a club). Founded in 1899 by a Swiss businessman, it was built around Catalonian identity. The club represents "Catalanism, civism and universality," according to its website.
---