Putin warns of growing terror risks as Kremlin arrests opposition leader
Putin says Russia faces real security threats in coming years as it hosts the World Cup and Olympics, but may also be conflating opposition leaders like Sergei Udaltsov with terrorists.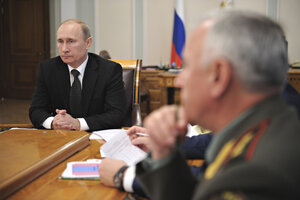 Alexsey Druginyn/RIA Novosti/Pool/Reuters
Russian President Vladimir Putin warned his security services yesterday that they will have to redouble their efforts to prevent terrorists and extremists from disrupting an upcoming string of high-profile sports events to be hosted by Russia, including the Sochi Winter Olympics in 2014.
But the Kremlin, which announced today they would be charging prominent left-wing opposition leader Sergei Udaltsov with "organizing disorder," also appears to be moving to conflate terrorists with the largely peaceful opposition movement.
"In the coming years, a whole series of very important political and sporting events will be taking place in Russia, and it should be a matter of honor for law enforcement officials and special forces to ensure that these events take place in a normal, businesslike and festive atmosphere," Mr. Putin told security officials, according to the independent Interfax news agency.
"We have many tense and conflict-ridden hot spots here, but we also have enough strength, skills, and means to deal with possible threats," he added.
Security experts say that multiple threats exist, and that time may be running out to create a safer atmosphere. In recent months, Putin has launched a sweeping reorganization of law enforcement agencies by downgrading the state security service, replacing virtually the entire upper echelons of the Interior Ministry – which oversees Russia's police forces and maintains huge internal paramilitary forces – and by making the Interior Ministry the main agency for coordinating all domestic security operations.
---