Will Italy's L'Aquila quake verdict have a chill on science?
An Italian court found a group of Italian scientists guilty of manslaughter for failing to give adequate warnings of a massive earthquake.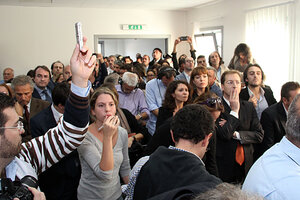 Raniero Pizzi/AP
Finding a group of Italian scientists guilty of multiple manslaughter charges for failing to give adequate warnings of a massive earthquake in 2009 will paralyze the country's scientific community, critics of the controversial case say.
Scientists will either refuse to give advice on the likelihood of natural disasters, or release the most extreme forecasts of floods, earthquakes, and volcano eruptions in order to cover their backs.
That would create unnecessary panic and false alarms in a country that is known for its high levels of seismic activity as well for having two large, brooding volcanoes that could blow at any time – Mt. Etna in Sicily and Mt. Vesuvius, which overshadows Naples.
The warnings came after six scientists and a senior public official were found guilty on Monday of providing inadequate warnings of the magnitude-6.3 quake that devastated the central Italian town of L'Aquila and surrounding villages in April 2009.
The quake, which struck after the region had been rattled by low-level tremors for weeks, killed more than 300 people and left tens of thousands homeless.
The scientists, some of the leading geologists in Italy, were all members of the Major Risks Committee and attended a meeting in L'Aquila six days before it was hit by the massive quake.
Prosecutors in the trial claimed that experts had given "incomplete, imprecise, and contradictory" advice about the risk of a major quake.
The experts protested that they simply had simply given the facts and stated clearly that quakes could neither be predicted nor entirely ruled out in such a seismically active zone.
The case has drawn comparisons with Galileo being put on trial for heresy in the 17th century for insisting that the Earth revolved around the sun, rather than the other way around, as the Roman Catholic Church maintained.
He was forced to recant his views in 1633 and has since become a universal symbol of scientific rationalism.
The group was sentenced to six years in prison after being found guilty by a court in L'Aquila of involuntary manslaughter and playing down the risks of a large earthquake hitting the Abruzzo region, of which L'Aquila is the capital.
---