Is Europe really on the brink?
Europe's biggest crisis in the postwar era is not just about the economy. It's about a search for identity – and a rationale for staying unified.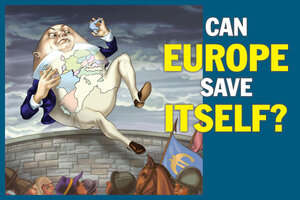 Cover illustration by Nancy Stahl
Paris, london, and berlin
In the 2012 London Olympic Games, who won the most medals? Yes, the United States garnered 104, and China captured 88. Nicely done!
But how about "Europe"? Tally the European Union medals and you get a whopping 306, ranging from Britain (65) to Portugal (1). In London, EU athletes ran, swam, jumped, and pole-vaulted with passion on behalf of their nations and programs. But none of these Olympians talked about winning for the EU.
And therein lies a conundrum for the sprawling entity known as Europe. Despite an abstract pride Europeans feel in being from the EU, the emotion, drive, and thrill of victory is still largely national. You do it for your flag.
On the sports field, this is positive and natural, and no one wants to change it. But in the world of politics, the unity and future of what has been known for 67 years as "postwar Europe" faces its biggest challenge ever. In the space of a few years, Europe has moved from bristling with confidence to a collective crisis that is shaking its unprecedented prosperity to the core.
---