Vladimir Putin to get a new, Russian-made ride
Putin has decided to ditch foreign-made armored limos in favor of a Russian model. But experts say the move, while patriotic, won't change things for the utilitarian Russian auto industry.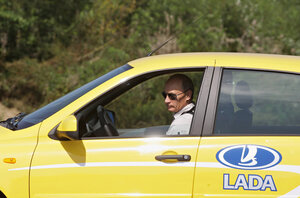 Alexei Druzhinin/Pool/RIA Novosti/Reuters/File
President Vladimir Putin has decided to ditch the foreign-made armored limousines that have served Kremlin leaders since the collapse of the USSR, and get himself a patriotic Russian ride.
Mr. Putin, who recently vowed to drive less and work from home more often, believes that Russian officials should ride in domestically built automobiles, he told a TV news program this week. And a prototype of the new "Limo No. 1," the new ZiL-4112P, is now ready for road testing, he added.
The sleek new car that Putin and other top Russian leaders will soon be riding around in, on Kremlin orders, is an updated version of the old ZiL limousines that carried Soviet Politbureau members to and from their dachas back in the days of the USSR.
But Mikhail Sattarov, director of special production at ZiL, says the new limo, which has been six years in the making, will be much more than one of those clunky old Soviet armored soapboxes that can nowadays be seen only in newsreels.
"This is a new car, the first prototype of a new series. We hope that if Putin decides to use it, it will have a favorable impact on the situation in the Russian automobile industry in general," Mr. Sattarov says.
---