Russia not Obama's 'No. 1 foe,' but Moscow doubts a fresh 'reset'
Obama promised 'more flexibility' with Russia after his reelection. But President Putin is pursuing a foreign policy agenda that is increasingly critical of the US.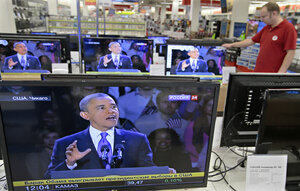 Mikhail Metzel/AP
Many Russians appeared satisfied after waking up Wednesday morning to the news that Barack Obama had been reelected president of the United States. But nobody sounded elated.
The controversial "reset" of relations introduced by President Obama early in his first term has run its course, most Russian experts say, leaving few lasting achievements behind.
And despite Obama's pledge to show the Russians "more flexibility" on the thorny issue of missile defense – captured by an open mic at a meeting in Seoul earlier this year – nobody in Moscow is expressing much hope for a breakthrough in the increasingly acrimonious relationship during Obama's second term.
"We have learned from that failed attempt by Obama to introduce a reset in our relations that there is room for improvement. And there was some, but it was very limited," says Viktor Kremeniuk, deputy director of the official Institute of USA-Canada Studies in Moscow, and one of Moscow's premier experts on America-Russia ties.
"Of course [Mitt] Romney's remarks, calling Russia the No. 1 geopolitical foe of the US, alarmed many of us," he says. "But things have deteriorated badly in reality under Obama.... After all this, many of my colleagues and I had already come around to the view that not much would change after the election, regardless of which candidate won.
---