Barack O-bonbon: French sweet on president's reelection
It's hardly been a secret that the French government hoped President Obama would win a second term.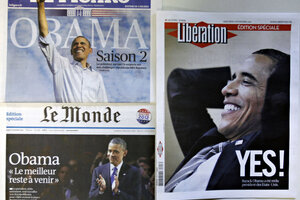 Remy de la Mauviniere/AP
Although the French government didn't officially pick a side in the US presidential campaign, its preference was hardly a secret. "If I were an American citizen, I would vote for Obama with no hesitation," Prime Minister Jean-Marc Ayrault told France Inter radio two weeks ago.
So it's no surprise that President Obama's reelection victory has been met with vocal approval.
"The reelection of Barack Obama is excellent news," Foreign Affairs Minister Laurent Fabius said Wednesday morning as he came out of the government's weekly meeting at the presidential palace. "It's excellent news first for the United States because President Obama has the abilities to face the challenges of the United States, which are jobs, growth, the reduction of the budgetary deficit, the problems of immigration, the problems of education."
Mr. Fabius added, "And it is excellent news for France and for Europe: For France because we have excellent relations with the American administration and because on issues such as growth, climate, we plan on working with the United States, and also because we need their support on issues that are called Iran, that are called Syria, that are called the Israel-Palestine conflict."
Minutes before Fabius spoke, Minister of Industrial Renewal Arnaud Montebourg walked by camera crews and reporters in the presidential palace's courtyard, simply saying "Barack Obama" as he gave a thumbs up.
---