As tiny Slovenia votes, larger eurozone watches with wary eye
The eurozone's unusually strong interest in next month's presidential runoff comes down to a key concern: Some fear Slovenia could be the next eurozone country to need a bailout.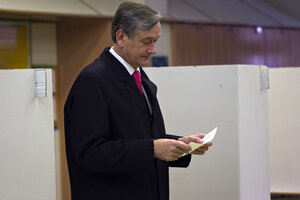 Darko Bandic/AP
A populist campaign by former socialist Prime Minister Borut Pahor saw him surprise pundits by coming out top in a first-round poll for the presidency of economically troubled Slovenia.
Mr. Pahor, the Social Democratic candidate, won 40 percent of votes, beating out the current president, Danilo Turk, a left-leaning independent who garnered 35 percent of the vote. The candidate of the conservative ruling Democratic Party, Milan Zver, managed just 24 percent, his popularity dented by a painful austerity program. A recent poll said only 21 percent of voters supported the government.
Pahor and President Turk must now go head-to-head in a second round on Dec. 2.
While Slovenia is a young member of the European Union, and a small player on the diplomatic stage, its election is garnering substantial attention, set as it is against the larger economic woes of the EU. The financial troubles of the country of just 2 million are of concern beyond its borders because it has adopted the euro currency, and some fear it may be the next country that will need a bailout, largely to rescue its banks.
---