Jailed Pussy Rioters switch legal team. A move away from politics?
The lawyers for the two jailed members of Pussy Riot withdrew on Monday, saying the politicization of the case was impeding their ability to represent their clients.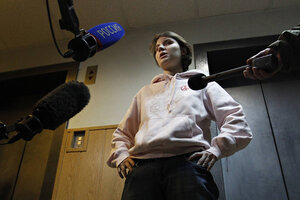 Maxim Shemetov/Reuters
Three lawyers representing two imprisoned Pussy Riot punk rockers have withdrawn – or been fired – from the case amid general agreement that they are not able to effectively represent the women as the atmosphere around their jailing grows increasingly politicized.
The lawyers announced their decision Monday, after being refused permission to visit their clients, Nadezhda Tolokonnikova and Maria Alyokhina, who are being held in the IK-14 penal colony in the remote Volga republic of Mordovia.
The shakeup in the defense team comes just a few days after Russian President Vladimir Putin publicly sparred with German Chancellor Angela Merkel over the imprisonment of the two women, which Ms. Merkel suggested was too harsh.
Mr. Putin scolded Merkel, saying that she knew about the case only from "afar" and was not aware that two of the three Pussy Riot defendants had earlier participated in a "performance art" display with "anti-Semitic" overtones. Russia's blogosphere subsequently erupted in outrage, with many pointing out that the 2008 incident Putin was alluding to, which featured a mock hanging of "minority" archetypes, had actually been intended to draw attention to the indifference and discrimination non-Slavic migrants and other minorities face in Russian society.
---