The pope joins the twitterverse as @pontifex
The Vatican is trying to reach out to an increasingly Internet-savvy audience and has already established a presence on YouTube and Facebook.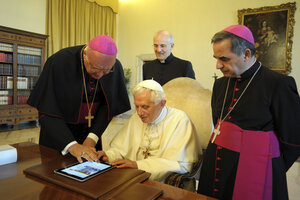 Osservatore Romano/Reuters/File
After centuries of issuing theology-heavy treatises and ponderous papal bulls, the Vatican on Monday announced that the pope was embracing the most succinct of communications – Twitter.
Pope Benedict XVI is famously technology-averse – not surprising, perhaps, given that he is 85 years old and a theologian by training – but the Vatican insisted that he would start tweeting regularly in English and six other languages Dec 12.
The initiative is an attempt to take the fullest advantage of new media to spread the teachings of the Gospels, amid intense efforts by the Vatican to make its message more accessible, especially to the young.
It will be a radical departure for the German-born pontiff, who last month published the third and final volume of a weighty study on the life of Jesus Christ.
The Vatican, steeped in a tradition in which quickness and conciseness were often markedly absent, insisted that the Gospels were ideally suited to being reduced to pithy, 140-character tweets, but acknowledged there would be a steep learning curve ahead.
"It's going to be a challenge to find the appropriate language to produce a sweet, short message and to learn the fluency of the language," said Monsignor Paul Tighe, an Irish priest who is the secretary of the Pontifical Council for Social Communications.
---