N. Irish police involved in Belfast lawyer's 1989 murder, says report
Today's report said Northern Irish police colluded in a loyalist paramilitary's murder of high-profile lawyer Patrick Finucane, though it did not find an 'overarching state conspiracy.'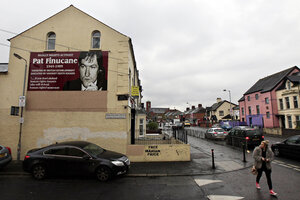 Cathal McNaughton/Reuters
Another murky episode from Northern Ireland's recent dark past has been partially exposed, thanks to a new report on the 1989 murder of Belfast lawyer Patrick Finucane that found "shocking" collusion by state officials in his death. But critics say that the British government has yet to fully shine a light onto its own involvement in the murder.
A report published today found that police and other officials "actively furthered and facilitated" Mr. Finucane's murder at the hands of paramilitary loyalists, who shot him in his home on Feb. 12, 1989, in front of his wife and two small children.
"My review of the evidence relating to Patrick Finucane's case has left me in no doubt that agents of the state were involved in carrying out serious violations of human rights up to and including murder," wrote former UN war crimes prosecutor Sir Desmond de Silva, who conducted the report.
But Mr. de Silva concluded that there was "no overarching state conspiracy" in Finucane's death.
A controversial case
Finucane had represented several high-profile IRA members, most notably hunger striker Bobby Sands, in cases against the British government in the 1980s. Though there was little doubt as to the identity of those directly involved in the murder – the loyalist paramilitary group Ulster Defense Association (UDA) claimed responsibility soon afterward, alleging that Finucane was a member of the IRA – there has long been suspicion that the government also had a role.
---