For Brits, Newtown shooting brings reminders of Dunblane
In 1996, 16 children died at the hands of a lone gunman in Scotland, spurring a radical reform of British gun laws. But Britain's experience may be too different to help a post-Newtown US.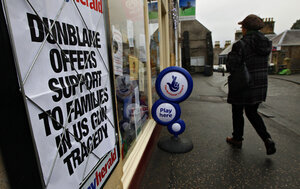 David Moir/Reuters
The massacre at Sandy Hook elementary school has sent a particular chill down the spines of Britons, particularly those old enough to remember the 1996 massacre of 16 children and their teacher by a lone gunman at a Scottish school.
But while that tragedy catalyzed Britain's evolution into a country with some of the toughest gun laws in the world, the cultural divide between the US and Britain may prove too wide to help Americans looking across the pond for guidance in the wake of Newtown.
The killings on March 13, 1996, in the town of Dunblane, Scotland, in many ways as close-knit a community as Newtown, spurred a radical overhaul of British gun laws. Subsequent measures introduced by governments of both Conservative and Labour hues culminated in a ban on handguns and automatic weapons, as well as an onerous system of ownership rules involving hours of paperwork, criminal reference checks, and mandatory references designed to reduce as far as possible the likelihood of guns falling in the wrong hands.
The result has been a success, if figures Britain's Home Office announced in January are anything to go by. They noted that last year saw the seventh consecutive annual fall in offenses that involved firearms. The 11,227 recorded last year was also a decrease of 13 percent on the previous year, while supporters of gun control have expressed contentment that the murder rate from guns is going in the right direction.
But Britain is not without its gun-control debate, albeit a different one than in the US. Britain's public, politicians, and law enforcement officials traditionally view firearms very differently to their US counterparts. A Washingtonian notion of an armed civilian populace is absent, while a majority of police are opposed to being routinely armed on duty. The debate is not about balancing individual rights versus public safety, but about how to best tackle crime rooted in poor communities.
---