Europe backs French Mali mission with strong words, modest means
European backing of France appears to be holding steady after hostages were reportedly killed at a gas field in the region. But the support is a far cry from the coalition that toppled Qaddafi.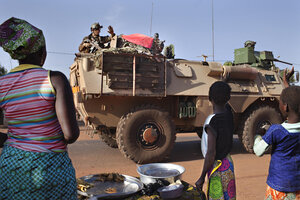 Joe Penney/Reuters
As France continued its military intervention in Mali in the wake of a reportedly deadly Algerian army attempt to rescue hostages at a natural gas field deep in the Sahara Desert on Thursday, its European partners offered plenty of rhetorical solidarity but little concrete support for the operation.
With Paris expected to increase the number of troops in Mali from 1,400 to around 2,500 in order to take on Islamist extremists, there were few signs that the rest of Europe was prepared to build the kind of coalition that successfully ousted Col. Muammar Qaddafi's regime in Libya in 2011.
While the French called for military backup in Mali, leaders in other European capitals appeared reluctant to commit to another war in a Muslim country, in the wake of the expenditure of blood and treasure in Iraq, Afghanistan, and Libya.
"You say, 'We'll give you nurses and you go get yourselves killed,'" said Daniel Cohn-Bendit, a French deputy in the European Parliament, as he tried to encourage other European countries to commit troops and military hardware to the intervention in Mali. "We [Europe] will only be credible if French soldiers are not the only ones getting killed."
The European commitment to the French effort in its former colony has so far been modest.
Britain, Belgium, and Denmark have provided C-17 and C-130 transport aircraft to ferry supplies to Mali, while a European observation satellite is furnishing intelligence for French forces on the ground.
Italy has also pledged limited support, including the use of Boeing 767 tankers for the in-flight refueling of French military aircraft and the dispatching of up to 24 military personnel to help train the Malian army.
---