In blow to inquest, key suspect in Russian spy murder refuses to cooperate
Andrei Lugovoi, who is now an elected official in Russia, says he won't talk even by video to British investigators about the poisoning of Alexander Litvinenko in London just over six years ago.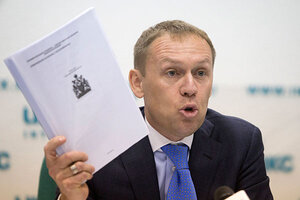 Misha Japaridze/AP
The murder of former Russian spy Alexander Litvinenko in London just over six years ago, using what must be the world's most exotic poison, radioactive polonium 210, has never been solved and remains the subject of conflicting narratives and still-deepening intrigue over who may have killed him and why.
Now it appears that a British public inquest that aimed to find definitive answers to those questions, slated to open in May, may have virtually no chance of getting to the bottom of it.
On Tuesday, the main suspect in the case, Russian KGB-officer-turned-parliamentarian Andrei Lugovoi, said he will not travel to Britain to give testimony or even provide evidence via video link.
"I have come to the conclusion that the British authorities will not give me an opportunity to prove my innocence and that I will not be able to find justice in Great Britain," Mr. Lugovoi told a Moscow press conference.
"I have definitely lost my faith in the possibility of an unbiased investigation of this case in Great Britain. I have to state that I am withdrawing from the coroner's investigation and will no longer participate in it," he said.
---