US, Russia missed chances to intercept Tamerlan Tsarnaev
Russia warned the US about the future Boston Marathon bomber back in 2011. But when Mr. Tsarnaev returned to Russia the next year, authorities there apparently left him alone.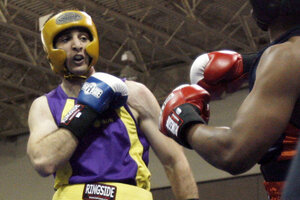 Rick Egan/The Salt Lake Tribune/AP
The revelation that the main suspects in the Boston Marathon bombings were two Russian citizens of half-Chechen, half-Avar (Dagestani) ethnicity, has prompted Kremlin leaders to dust off a longstanding argument that the United States should listen to Moscow's warnings about extreme Islamist terrorists, whether they hail from Chechnya, or Syria, or anywhere else.
The Russians say the US should turn away from its current path of criticizing Russia on human rights issues and embrace greater anti-terrorist cooperation in the name of common civilizational values.
That pitch was made explicitly by President Vladimir Putin in a Saturday telephone conversation with Barack Obama. A brief statement posted on the Kremlin website noted that "both sides emphasized their interest in increasing coordination between Russian and American intelligence services in the fight against international terrorism."
"I would like to remind you that since the early 2000s, when there was a war going on in the northern Caucasus, Putin has said more than once that there can't be domestic and foreign terrorists, and you can't flirt with them," Dmitri Peskov, the Kremlin spokesman, told journalists Saturday. "They can't be differentiated. You can't deal with some of them, and not others. They all equally deserve nonacceptance."
---