Freedom takes a hit worldwide
A new report by Washington watchdog group Freedom House says a clampdown on political rights made 43 countries 'not free' in 2007.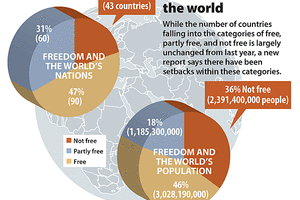 SOURCE: Freedom House/Rich Clabaugh–STAFF
Monks in Burma (Myanmar), lawyers in Pakistan, bloggers in China, and students in Venezuela and Bangladesh: these forces pushing back against restrictive moves by increasingly antidemocratic regimes are among the bright spots that a new report finds in a global trend toward less political freedom in the last year.
"There aren't too many really unifying factors among these activists, no obvious common issues linking the different groups," says Arch Puddington, director of research at Freedom House, the Washington group that issued its annual Freedom in the World report Wednesday. "What they do have in common is that they are rising up against the challenges to freedom in their countries, and they themselves are under considerable pressure."
Silver linings in the form of saffron-robed monks and bloggers aside, those mounting pressures are the central conclusion of the Freedom House findings.
A second consecutive year of freedom's decline – particularly in South Asia, but also in the region of the former Soviet Union, the Middle East, and sub-Saharan Africa – is the main conclusion for 2007 of the annual survey by Freedom House, which monitors trends in political freedoms and advocates their expansion. This is the first time in 15 years the group has seen two consecutive years of decline.
---