Tropical glaciers slowly vanish
Rivers fed by melting glaciers across Latin America may soon dry up, forcing changes on the people who depend upon them.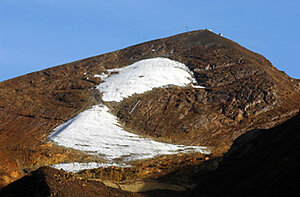 Dado Galdieri/AP/File
Each Saturday Delia Cascamayta hops on a bus to the colorful produce market in Cuzco, Peru. There she sells the bananas, yucca, potatoes, and oranges that she grows on a 25-acre patch in the Sacred Valley, named by the ancient Incas for its fertile soil.
But as one of several farmers dependent on river water that originates from melting glaciers here in Peru, her feelings about her future are far less bright than the intense hues of her fruit display.
"What's going to happen if the snow and water disappear?" she asks.
For decades, scientists have been warning that glaciers in Africa, Asia, and here in Latin America – particularly Peru – are melting. Last year, the United Nations' Intergovernmental Panel on Climate Change (IPCC) issued a report concluding that rising global temperatures could melt Latin America's glaciers within 15 years.
Rural residents across the Andes Mountains just now are catching up with the science that has long predicted that their lifestyles must change. "They are depending on water that comes from the Andes for almost every activity," says Edmundo de Alba, a Mexican scientist who sits on the panel that published the second of the UN's four IPCC reports last year.
---