Global warming opens new Arctic shipping lane
Northeast Passage through the Arctic slashes time and money for mariners and could be a boom for Russia. But it raises concerns about ice loss induced by global warming.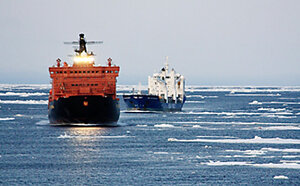 Beluga Shipping/AP
Mariners have dreamed for centuries of finding a commercially viable shortcut between Europe and Asia across the top of the world. Many have died trying, but none succeeded until late September, when two German freighters slipped quietly into Rotterdam Harbor after completing a historic month-long journey from Vladivostok, in Russia's Pacific far east, through the once-impassable Arctic route.
The Bremen-based company that operates the two specially reinforced cargo ships, the Beluga Fraternity and the Beluga Foresight, that made the journey said that taking the new route saved 10 days and $300,000 per ship over the usual 11,000 nautical-mile voyage through the Indian Ocean, the Suez Canal, and the Mediterranean in order to reach the North Atlantic.
"We are all very proud and delighted to be the first Western shipping company which has successfully transited the legendary Northeast Passage," the Beluga company said in a statement. It plans to begin using the route on a regular basis.
The bad news, scientists say, is that the feat only became possible because the Arctic icecap is retreating at an alarming rate, leaving vast swaths of open water where solid pack ice recently frustrated attempts at even summer navigation. This year saw the third-lowest amount of Arctic sea ice on record, after the record set in 2007.
---