Megacities of the world: a glimpse of how we'll live tomorrow
By 2050, 7 out of 10 people will live in megacities, offering the benefits of concentrated living but also some of the biggest public-works challenges in human history.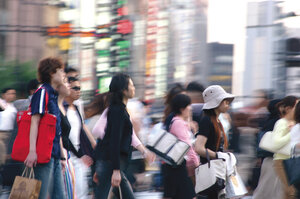 Newscom
On a teeming street in Mumbai's Dharavi slum, amid a colorful swirl of sweet lime carts and red-clay pottery, Pastor Bala Singh brings an assortment of buckets to retrieve his daily ration of water. The indoor spigot he uses provides water only three hours a day. It is the only source for the six small homes on his street, and each family has 30 minutes to fill its containers.
Pastor Singh is not complaining, though. Things are greatly improved from when he first immigrated to Dharavi – the most crowded part of one the world's most crowded cities. "The roads were muddy," he says from his second-floor office, above the popping sizzle of a man welding, sans protective gear, downstairs. "Now they put down bricks." Singh ministers to a small congregation that meets above the church-sponsored kindergarten where his wife has taught for 17 years. Though relatives have begged him to come home to Tamil Nadu, 700 miles east, he has no plans to leave.
"Three times I tried to go back to my native place," the pastor says, explaining that there were no jobs there. "I don't want to live here ... but God's plan is different."
Singh's migration to the city, a combination of divine impulsion and the simple need to work, is part of what could be called an epic trend affecting billions of people worldwide. Sometime in 2007, for the first time in human history, more people began to live within the cacophonous swirl of cities than in rural hamlets or on countryside farms.
---