Global temperature to rise 3.5 degrees C. by 2035: International Energy Agency
Unless governments cut subsidies for fossil fuels and adopt new policies to support renewable energy sources, the Copenhagen Accord to hold global warming to less than a 2-degree increase will not be reached.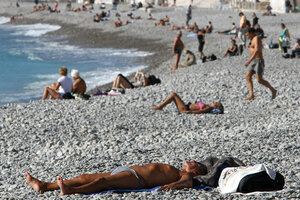 Lionel Cironneau/AP Photo
Global temperatures are projected rise 3.5 degrees C. over the next 25 years, the International Energy Agency said Tuesday, meaning that governments worldwide will have failed in their pledge to hold global temperature at a 2-degree increase.
But there's hope yet, says Fatih Birol, the chief economist for the Paris-based International Energy Agency (IEA).
If governments remove subsidies for fossil fuels and increase investments in renewable energy to make them cost competitive, then the Copenhagen Accord can still be upheld. The voice of guarded optimism comes just ahead of a summit starting Nov. 29 in Cancún, Mexico, for another round of climate talks.
"Renewable energies need substantial subsidies from governments," Dr. Birol said in a telephone interview. "The important task [for governments] is to decide whether they will support energy renewables in the future. It could be bad news for energy security and climate change if they don't."
---