Iran's steady anti-Western stance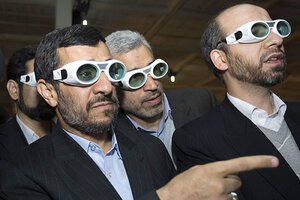 Newscom
After World War II, the United States and Britain supported the pro-Western shah, Mohammad Reza Pahlavi. They engineered a coup against the prime minister in 1953 after the government nationalized the oil industry. The shah then embarked on 25 years of economic and social modernization that alienated the clergy. He was overthrown in 1979 by an anti-American Islamic fundamentalist regime that the West fears is now developing atomic weapons.
1979 Militant students storm the US Embassy in Tehran, seizing hostages – 52 are held for 444 days.
1980 The Iraqi invasion of the new Islamic republic starts the eight-year Iran-Iraq War.
1985 The Iran-contra affair begins: The US – seeking Iranian influence in the release of hostages held by Hezbollah in Lebanon – sells arms to Iran; proceeds go to anticommunist contras in Nicaragua.
1988 The warship USS Vincennes mistakenly shoots down an Iranian airliner, killing all 290 on board.
1989 Ayatollah Khomeini's religious edict orders Muslims to kill British-Indian author Salman Rushdie.
---