Social media: Did Twitter and Facebook really build a global revolution?
Social media: From Iran to Tunisia and Egypt and beyond, Twitter and Facebook are the power tools of civic upheaval – but social media is only one factor in the spread of democratic revolution.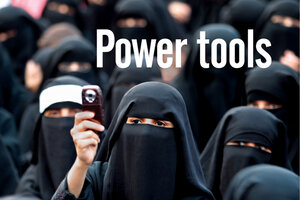 Reuters photo/John Kehe illustration
It felt like we watched it everywhere.
Facebook pages blared protest plans. Photographs were uploaded to Flickr, a photo-sharing website, and video clips were hoisted onto YouTube. Protesters mapped their uprisings, and the violence that followed, adapting their online cartography in real time to reports gathered by text message and Facebook updates.
To say nothing of all the tweeting.
IN PICTURES: Top Twitter Moments
After only a few weeks watching the events in Tunisia, Egypt, and Libya, it seemed conclusive: This was the global revolution that Twitter built – that, maybe, only Twitter and other technologies could have built.
"These technologies collectively – everything from cellphone cameras to Twitter – are disruptive not just of other technologies like landlines or newspapers, which the military could shut down, but [of] the whole social construct. Social media is really a catalytic part," says Peter Hirshberg, a senior fellow at the Annenberg Center on Communication Leadership & Policy at the University of Southern California in Los Angeles.
---