A push to farm smarter – not bigger – to feed the world's hungry
With famine in Africa and food prices at record highs, governments and agencies around the globe are looking to educate small farmers about more efficient, sustainable agriculture practices.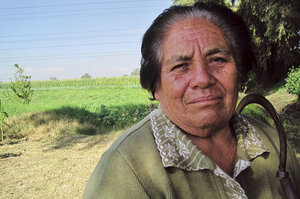 Sara Miller Llana/The Christian Science Monitor
Texcoco, Mexico; and New Delhi
For more than 30 years, Porfirio Bastida never considered changing the way he farms his 1.2 acre cornfield in Texcoco, in the central Mexican highlands.
But rainfall patterns were changing and water seemed to be scarcer. Each year, he says, he was investing more and harvesting less.
So he joined forces with a nearby research institute called the International Maize and Wheat Improvement Center (CIMMYT). It helped him switch from the practices he'd employed his whole life to conservation-agriculture techniques: rotating crops, not tilling, leaving residue from the previous harvest to act as a sponge atop the land.
"The land gives to us, and we have to give something back," says the wiry farmer, in dark pants and honey-colored imitation-crocodile boots. The practices, he says, are not only good for the environment. He has doubled his production in three years, he says, and is investing half. "Many are abandoning their land, but for me, this land is sacred. … I am happy to have this little piece of land and conserve it."
CIMMYT, in partnership with the Mexican government, has reached 3,500 farmers throughout Mexico in the past year alone. While many of the practices they are instilling are not new, aid groups and governments around the world are revamping similar efforts after decades of focusing on different development goals.
The new focus on boosting small farmers is fueled by record-high food prices and renewed attention to hunger with more than 12 million people in the Horn of Africa suffering from drought and famine. Many aid experts also now see the small farmer as the long-term solution to hunger, with the global population estimated to reach 9 billion people by 2050, requiring a 70 percent increase from current food production.
---