Occupy Europe: How a generation went from indifferent to indignant
Occupy Europe? From Madrid to Athens, young people facing a bleak future are casting doubt on European identity.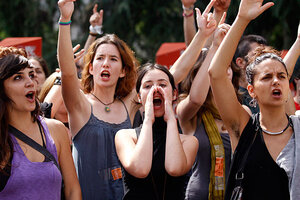 Andrea Comas/Reuters
The most significant current youth movement in Europe started with a tweet on Justin Bieber, the boyish Canadian crooner. On May 15, following a rally against education cuts at Madrid's main square, a cluster of 40 students stayed on, talking into the night. Spain, like Greece and Italy, faces huge public deficits. The government has been cutting outlays for basic services like schools, health care, and social welfare. While college attendance in Spain is a success story, youth unemployment has risen to a horrific 44 percent.
So on Puerta del Sol square, the kids were hashing it out. They wanted to bed down on the square, but the police had other ideas. About 4 a.m., the police pushed the makeshift campers off. A month before, students had slept there to buy tickets to a Bieber concert. No one is sure who sent the first "Bieber tweet," but it went instantly viral: "We can sleep on the square for Bieber tickets, but not to discuss our future."
The tweet distilled perfectly frustrations among youth that Europe, Spain, their politicians, the banks, the system, their lives – all are in trouble and need to change. The Zapatero government, like governments across Europe, hews to a neoliberal model that stresses cutting deficits and using taxes to shore up banks. But it has said little about how to spur growth. Austerity is seen as the predominant answer to spiraling debt costs. But this offers no solace to an educated but unemployed generation that says it wants both work and meaning in life.
---