Russia, Ukraine near gas deal - but what about next time?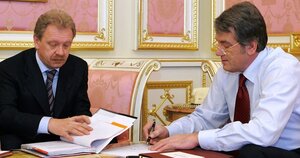 Mykola Lazarenko/Pool/AP
Is the Big Chill over?
Nearly a week after Russia shut off gas to Ukraine on Jan. 7, affecting supply to at least 20 European Union countries, the Kiev and the Kremlin appear close to resuming regular business.
Top Russian officials including Gazprom head Alexei Miller are in Brussels today to meet with EU energy ministers and sign a deal that will include international monitors in Ukraine.
But given the on-again, off-again nature of this spigot spat, who knows?
Third year in a row
All those shivering in Bulgaria, Poland, and the rest of Eastern Europe will breathe a sigh of relief once a deal is struck. But is the problem permanently solved? As the Monitor's Moscow correspondent Fred Weir pointed out in an audio report last week, this is getting to be an annual New Year's event with shutoffs in 2007 and 2006. (Notice there are never any gas disruptions in the muggy summer months.)
---
Follow Stories Like This
Get the Monitor stories you care about delivered to your inbox.