Obama's Mideast envoy George Mitchell brings patience, resolve
(Read article summary)
In Northern Ireland, he 'failed' 700 times but ultimately secured a deal in 1998 after decades of hatred and violence.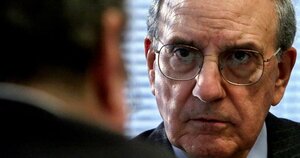 Bebeto Matthews/AP/File
If anyone can salvage the tattered Israeli-Palestinian road map to peace, it just might be George Mitchell.
The former senator from Maine, named today as Obama's Middle East envoy, brokered peace in Northern Ireland after decades of hatred and bloody violence. While the Israeli-Palestinian conflict is a different bird, many of the skills Mr. Mitchell honed in Belfast bode well for his ability to get the Mideast peace process back on track.
This is a man who stood up to Oliver North in the Iran-contra hearings, took on Major League Baseball with an investigation into steroid abuse, and won the trust of warring factions in Northern Ireland. In one particularly telling example, a Unionist leader who had had harshly criticized Mitchell's appointment told the press two months later that he was "an excellent chairman."
---