Hamas leader credits Iran in Gaza victory
(Read article summary)
Hamas political chief Khaled Meshal was warmly received today in Iran, which has expanded its regional influence in recent years.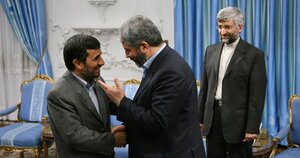 Baqer Nasir/Mehr News Agency/AP
Hamas political chief Khaled Meshal traveled to Iran on Sunday, continuing a regional diplomatic tour by voicing again Hamas "victory" over Israel, and briefing Iranian officials on the results of 22 days of war. He also gave Iran a very public pat on the back.
"The Islamic Republic of Iran has a big share in our victory in the Gaza Strip," said Mr. Meshal, who met Supreme Leader Ayatollah Ali Khamenei and Iranian President Mahmoud Ahmadinejad.
Iranian television showed Mr. Meshal receiving a warm embrace from Ayatollah Khamenei, whose nation supported Hamas throughout the conflict and accuses Israeli leaders of war crimes. Iranian officials have turned the Gaza war - and its lopsided death toll, with 1,330 Palestinians killed compared to 13 Israelis - into a rallying cry of resistance against Israel and its American backers.
Hamas opposed to permanent cease-fire until 'occupation' ends
In the company of friends, Meshal said that Hamas would not agree to a cease-fire while Israel continued its 19-month economic blockade of Gaza. "The resistance is against a permanent cease-fire," the Hamas leader said. "While the occupation continues, a permanent cease-fire has no meaning."
---