Moscow court acquits three defendants in Politkovskaya murder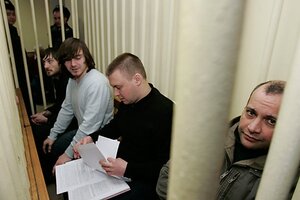 REUTERS/Alexander Natruskin
MOSCOW -- Attempts to find justice for murdered Russian investigative journalist Anna Politkovskaya hit a brick wall Thursday when a Moscow jury acquitted all three defendants in the case.
The defendants, two Chechen brothers and a former police officer, were accused of being accomplices in the contract assassination. Critics have been crying foul since the trial opened last November, since neither the actual killer nor the alleged mastermind who ordered Ms. Politkovskaya's death have ever been caught or even named by authorities.
Politkovskaya, a sharp critic of the Kremlin and tireless chronicler of Russian human rights abuses in Chechnya, was gunned down in the entrance to her Moscow apartment building in October 2006.
Lawyers representing Politkovskaya's relatives and her former employer, the crusading Moscow weekly Novaya Gazeta, said they were not deterred by the verdict and would seek a fresh investigation.
"We want to see the real killer in the dock, and we will succeed," lawyer Karina Moskalenko told journalists.
The official investigation into Politkovskaya's murder has been dogged by allegations of bias, foot-dragging, and outright incompetence on the part of the prosecutors, chronicled here in a Monitor story.
Key suspects thought to be involved in the planning of the murder, including a former officer of the FSB security service, Lt. Col. Pavel Ryaguzov, were released without explanation.
---