Sarkozy's red lines for a G-20 summit deal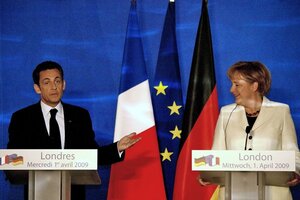 Max Nash/AP
French President Nicolas Sarkozy came out swinging Wednesday morning. He threatened to walk out of the G-20 Summit in London.
But by late afternoon, Mr. Sarkozy was making nice.
"I have confidence in Obama," and, "I am sure that he will help us and that he will understand us," he said at a joint press conference with German Chancellor Angela Merkel Wednesday.
Mrs. Merkel said both leaders had come "in a very constructive mood."
As for walking out, Sarkozy said "it would be annoying to leave when I have just arrived."
But that doesn't mean France and Germany have completely backed down.
Sarkozy has produced a number of 'tests' which he insists must be met.
Sarkozy's red lines
For starters, tighter financial regulation of banks was "a non-negotiable goal" that has to be met, he warned Wednesday.
Action on executive bonuses, hedge funds, rating agencies, and offshore tax havens were all also identified as "red lines" for France, as well as Germany.
Click here to read about Germany taking a tough line on Swiss tax havens.
---