Obama promises united front with South Korea over North's planned launch
(Read article summary)
At a G-20 sideline meeting, he affirms the alliance and avoids discussing controversial trade deal.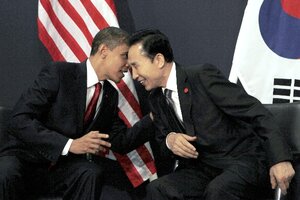 Charles Dharapak/AP
SEOUL, SOUTH KOREA – President Obama and South Korean President Lee Myung Bak appeared to follow well-crafted scripts in their first meeting Thursday as they emphasized "the staunchness of the Korea-US alliance" despite a months-old dispute over a controversial trade deal.
The show of solidarity reflected both countries' desire to put up a united front on the more urgent issue facing them – North Korea's declared plan to launch a rocket some time between Saturday and Wednesday.
Before breakfasting with the 18 other leaders at the G-20 session in London, Mr. Obama and Mr. Lee trod carefully on a free trade agreement (FTA) that negotiators worked out over 1 1/2 years but that neither countries' legislatures have approved.
A summary of the main points of the 30-minute meeting, disseminated by the Blue House, the center of presidential power here, did not mention the controversial FTA at all, although a spokesman later said the topic had arisen in general terms.
"The two leaders did talk about the FTA," says the spokesman, in response to a query. "They did agree FTA is important, and they will try for further progress on the FTA issue."
Those diplomatic words mask well-known disagreements between top American and Korean leaders on a deal likely to vastly increase bilateral trade.
---